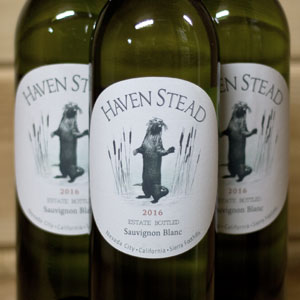 2016 Sauvignon Blanc
Add to CartSingle Bottle $28.00 Member Price $22.00
Add to CartThree Bottles $80.00 Member Price $60.00
Add to CartHalf Case $144.00 Member Price $115.00
The wine's color mirrors the citrine gemstone with hints of platinum, abundant with light. The bouquet is intense and evocative of aged Chablis: woody, yellow roses, notes of baked apple. The tongue reveals an astonishing freshness like fine mineral water, stony and earth. It has perfectly balanced acidity, which also makes it suitable to drink as a cocktail, or with small Spanish savory dishes. Consumed at 45F.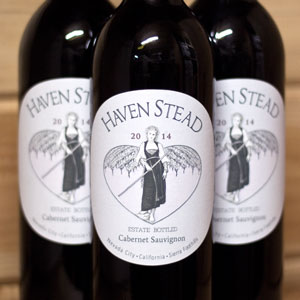 2014 Cabernet Sauvignon
Add to CartSingle Bottle $45.00 Member Price $35.00
Add to CartThree Bottles $125.00 Member Price $97.00
Add to CartHalf Case $234.00 Member Price $187.00
This reserve mountain Cabernet Sauvignon was grown on a stony hill and the bouquet is stony, making a mineral impression on the olfactory receptors, and as the wine spills over the sides of the tongue its taste rises on the palate like smoke around a snowy cabin, intricate, mysterious, dark with raspberry hints. To be lingered over and enjoyed at leisure. Serve between 65F and 70F.
Wines Available by Request
The following reserve and limited quantity wines may be available. Contact us for details.
1997 Cabernet Franc
1997 Merlot
1997 Cabernet Sauvignon
1997 Vineyard Blend Reserve
2000 Cabernet Franc
2000 Merlot
2000 Cabernet Sauvignon
2001 Cabernet Franc
2001 Merlot
2001 Cabernet Sauvignon
2004 Merlot
2005 Cabernet Sauvignon
2005 Cabernet Franc
2005 Cabernet Sauvignon
2006 Cabernet Sauvignon
2007 Cabernet Franc
2008 Merlot
2008 Cabernet Sauvignon
2008 Cabernet Franc
2009 Cabernet Sauvignon
2009 Cabernet Franc
2009 Merlot
2010 Cabernet Franc
2010 Cabernet Sauvignon
2010 Merlot
2011 Cabernet Sauvignon
2011 Merlot
2011 Cabernet Franc
2012 Cabernet Sauvignon
2012 Merlot
2012 Cabernet Franc
2013 Cabernet Sauvignon
2013 Merlot
2013 Cabernet Franc